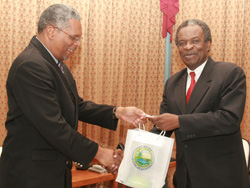 The Commissioners and top executives of the Port Authority of Trinidad and Tobago (PATT) met THA Chief Secretary Orville London yesterday (Thursday 24th November 2011) to discuss the authority's plans for Tobago.
Prior to their 45-minute meeting at the Calder Hall Administrative Complex, PATT Chairman Joseph Toney told London they were there to discuss the Scarborough port as well as the ferry service between the islands, especially the reasons why the cargo ferry, the Warrior Spirit was out of service for some time.
The port official later visited the Scarborough port and met with staff.