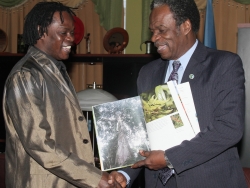 Senegalese music sensation Baaba Maal paid a visit to Tobago House of Assembly Chief Secretary Orville London (November 25, 2011). The popular West African artist will be performing at the "Voices of Freedom" Concert today (Sat 26).
Mr. London said that he was excited about Baaba Maal's performance, and that it was important to Tobagonians that they had the opportunity to experience live African music.
He said that we in the Caribbean only saw the darker side of Africa on TV, and we did not see the positive aspects, such as the universities and businesses.
Baaba Maal has been an entertainer for twenty-five years. He is also a Youth Emissary for the United Nations Development Program. He told Mr. London that he had been singing since age eleven and that it was a "good opportunity for people of the diaspora to celebrate." He said that he was bringing knowledge and sounds to other parts of the world.
Mr. London told Baaba Maal that he credited him as more than a performer, but as someone who had an interest in people of the diaspora.
"Sometimes we don't recognize the relationships between countries of the region. We classify according to language," Mr. London said. He indicated that the THA would continue an open dialogue in order to share culture.
Baaba Maal said that the message of his music encouraged people to forget their differences and come together, and to work together for a better life for the next generation.
The founder and General Director of the Ballet Folklorico da Bahia, Walson Botelho, was also present. Ballet Folklorico da Bahia is a professional folk dance company that promotes Afro-Brazilian culture. They have been performing worldwide for the past twenty-three years. Twenty of the forty members are visiting Tobago to train, and to perform at the "Voices of Freedom" Concert.
The "Voices of Freedom" Concert, in celebration of the International Year of People of African Descent, will be hosted by the Secretary of Community Development and Culture at the Pigeon Point Heritage Park. The event starts at 6:00 p.m.