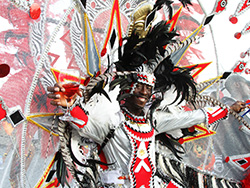 The Tobago Carnival Committee is happy with how Tobago Carnival is shaping up, and is encouraging the public to support the event.
Winston Gordon, Chairman of the Committee, said Carnival preparations began since mid-2014 and are progressing well.
"Carnival is people and Carnival is the people's thing," Gordon said during the weekly Post Executive Council media briefing held last Thursday (29 January, 2015). "I'm really pleased with Carnival in Tobago and the planning," he commented.
The event is more than just a show, added Secretary of the Division of Community Development and Culture Dr. Denise Tsoiafatt-Angus.
"Our support for Carnival is not just investing in terms of paying artists or putting on a show. Developing the industry and maximising on its potential goes way further than that," Tsoiafatt-Angus said, adding that the Division was looking at ways for Carnival to become "a sustainable part of development."
This year's theme for Carnival is "Mystical Secrets Unfold." It will include the THA's Inter-Department Calypso Monarch and Personality Competition at Shaw Park Complex on Thursday (February 5th) and the National Calypso Monarch semi-finals at Skinner Park on Saturday (February 7th).
Also on the Carnival calendar are Kiddies Carnival at Scarborough on February 14th and Carnival Monday J'ouvert in Scarborough, Crown Point, and Roxborough on February 16th.
The 2015 Tobago Carnival season will cost $12 million stated Secretary of the Division of Community Development and Culture Denise Tsoiafatt-Angus.
Of that sum, steelpan has been allocated $2.5 million, while the Trinbago Unified Calypsonians' Organisation (TUCO) ($2 million) will also benefit, along with calypsonians who are not TUCO members.
The Windward Carnival Development Committee will receive $1.2 million and a further $4.5 million will go towards the staging of other Carnival events.