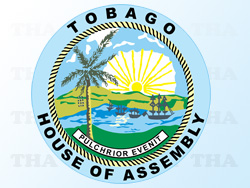 In light of their fourth cabinet reshuffle in less than five years, the People's Partnership should call an early general election to "revalidate" their position as Government of Trinidad and Tobago.
This is the view of Tobago House of Assembly Chief Secretary Orville London, who expressed concern at the current state of central government during a media conference at the Administrative Complex in Calder Hall, Scarborough (3 February, 2015).
Prime Minister Kamla Persad-Bissessar on Monday night (2 February), announced that she had fired former Attorney General Anand Ramlogan, who is currently being investigated over allegations that he attempted to influence Police Complaints Authority (PCA) Director David West to withdraw his witness statement in an ongoing legal matter brought by Ramlogan against Opposition Leader Dr. Keith Rowley.
National Security Minister Gary Griffith was also fired after being named by West as a witness when West reported the matter to police. Two other Minister—Emmanuel George (Ministry of Justice) and Embau Moheni (Minister in the Ministry of Justice)—were stripped of their portfolios, while Minister in the Ministry of Works and Infrastructure Stacy Roopnarine was reassigned, and Senate President Timothy Hamel-Smith also felt the axe.
Asked about Rowley's call for early elections, months before it is due in mid-2015, London said he also sees a need to return to the polls.
"An opportunity should be given to the people of Trinidad and Tobago in light of what transpired to really make a decision and to revalidate or take away the mandate from the present government," London said. "But I think all of us know that the views of the people of Tobago, my views and the views of the Opposition Leader are not what is going to influence when elections will be held."
London said it is likely the Prime Minister will call elections when the People's Partnership feels its chances have improved from its current low.
The Chief Secretary also lamented that the Prime Minister chose to focus on the other people involved in the matter, but not the serious allegations of criminal misconduct directed at Ramlogan. He described the Prime Minister's reaction to the situation as "disingenuous, self-serving, contradictory" and "highly revealing of her personality and priorities."
London also advised the country to pay attention to how various issues were handled by government. He singled out the situation where House of Representative Speaker Wade Mark remained unscathed after wrongfully claiming the Judiciary had informed Mark of a legal matter involving Finance Minister Larry Howai. Others, he said had lost their jobs or were reassigned for unspecified reasons.
The changes to Cabinet, though, had not left T&T with a level of relief, comfort or confidence in the Prime Minister, he added.
Asked whether he believes this latest series of controversy will signal the end of the People's Partnership government, the Chief Secretary said that is up to the people of T&T. "(Government) will collapse, it will tend to become weaker, less credible," London replied. "Obviously its weaknesses will be exposed."
"But at the end of the day, the end of the PP Government will not be determined by the PP Government. It will depend on the people of Trinidad and Tobago and whether they are prepared to accept this kind of government for any longer than they have to."