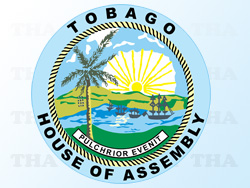 THA Chief Secretary Orville London assured Tobagonians that the Shaw Park Complex is safe and is urging the public to give the new building a try.
At Tuesday's media conference at the Administrative Complex in Calder Hall, Scarborough, members of the media sought answers on what they described as public concerns over the soundness of the Shaw Park Complex building.
London was also asked about whether the building had been cleared for use by Fire Service.
He said that only Tuesday (February 3rd, 2015) morning he had seen a copy of a Fire Service document clearing the venue to host its first event this week, which would not have been given if the building was unsafe.
London said the building, which is expected to seat a maximum 5,000 patrons, has both electricity and water connections, along with back-up generators.
He added that experts from project manager NIPDEC (National Insurance Property Development Company Limited) have assured him that the building is safe and it is not just a matter of proofing the building—the hosting events to determine what improvements if any are needed—before the Complex can be officially opened.
He also responded to criticisms from Public Services Association president Watson Duke, who recently raised safety issues about the Complex, labelling them as "preposterous".
"I don't know why people would feel that we have any less concern about the safety of the people of Tobago than anybody else, including Mr. Duke," London stressed.
The Chief Secretary noted that the Complex was designed for a small island with a small population.
"One of the things you don't have the opportunity to do is specialise," he explained. "You can't afford to build a NAPA (National Academy for the Performing Arts), and then a Queen's Hall and then a Carnival Hall and a Dance Theatre. So what we tried to do is have a multifaceted facility where you can do all of those things."