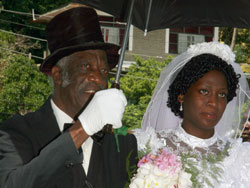 A gala opening of the 2011 edition of the Tobago Heritage Festival is planned for Friday at the Dwight Yorke Stadium Car Park starting at 8 p.m.
The event is celebrating its 25th year with the theme: "Celebrating the Journey: We come from Far". The Tobago House of Assembly (THA) has committed $6.3M to the event, while there are 11 corporate sponsors for the 18-day festival from Friday to Emancipation Day on August 1.
The opening will be followed by the Heritage Calypso Monarch and Pan Folk-o-Rama at the Milford Road Esplanade at 8 p.m. Ten calypsonians have been selected for the contest.
The Folk Fiesta will be staged at the Cyd Gray Sporting Complex from 3 p.m. on Sunday. "Ah we own Massa" will be presented at the Whim Hard Court on Monday at 8 p.m. and Canaan/Bon Accord/Crown Point will host "It takes a whole village to raise a child – Part IV at Store Bay on Wednesday at 8 p.m.
Black Rock will host the Sea Festival and Boat Christening at the Courland Heritage Park from 5 a.m. and the Heritage Food Fair and Heritage Market will be held at the Garden Side Car Park between 11 a.m. and 5 p.m.
One of the highlights of the 18-day festival is the Ms Heritage Personality to be held at the Cyd Gray Sporting Complex, Roxborough on July 22 at 8 p.m. This year the show's sponsor, First Citizens will present a development grant to the winner and the THA will appoint the winner a Cultural Ambassador during her one-year reign.
The famous Moriah "Ole Time Tobago Wedding" will be held from 1 p.m. on July 23. "Games we used to play" will be staged by Mason Hall and "Natural Treasures Day" will be hosted by Charlotteville on July 25.
The traditional "Salaka Feast" will be put on by Pembroke at the new Pembroke Heritage Park on July 27; Les Coteaux's "Folk tales and superstitions" will be held on July 28; the Junior Heritage Festival will be held at the Pembroke Heritage Park from 10 a.m. on July 29, while the Heritage island Tour will be held the same day from the Milford Road Esplanade starting at 8 a.m.; Plymouth/Bethesda will stage "Ole Time Carnival" at the Plymouth Recreation Ground on July 30.
New feature of the festival is the Drum Festival and Goat Races at the Buccoo Integrated Facility on July 31. The final day on August 1 will be the Emancipation Day parade from Bon Accord to the Pigeon Point Heritage Park from 11 a.m.