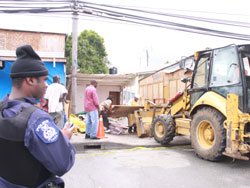 In its efforts to improve the ambience of Scarborough, the Tobago House of Assembly (THA) this morning (Friday 8th June 2011) demolished several illegal structures and tents in the town.
Notices and warning letters were served on the owners and occupants of the illegal structures and tents over a protracted period since March drawing their attention to a breach of the Public Health Ordinance Chapter 12 No 4 and other health laws. The Assembly also had its officers issue verbal warnings to the owners and occupiers of the properties along Milford Road, Wilson Road and Sangster's Hill. Some of the occupiers also lived in the structures and tents without washroom facilities thus creating a health hazard.
Despite these warnings the owners and occupiers did not take action, some even doing additional works to their structures. The demolishing exercise by workers of the Divisions of Public Utilities and Infrastructure, and Health and Social Services started shortly after 9 a.m. under the watchful eyes of police officers of the Scarborough Division.
A number of THA officials in the past weeks have been alerting the public of the action to be taken against owners and occupiers of the illegal structures and tents and illegal vending on the streets. THA Chief Administrator Dr Ellis Burris recently described Scarborough as a urinal and shanty town when speaking of a beautification programme for the town.