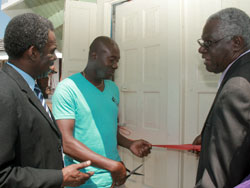 THA Chief Secretary Orville London has urged stakeholders in the tourism sector to treat the Trinidad tourists as they would the foreign ones.
He disclosed that last year 36,000 foreign tourists visited Tobago while between 700,000 and 800,000 visitors came from Trinidad.
London said statistics show that the Trinidad visitor spends more money than the foreigner on a visit to Tobago, adding that some people make a distinction between the foreign tourist and the Trinidad tourist. "Therefore," he stressed, "let us treat visitors from Trinidad in the same way we treat the international visitors."
The Chief Secretary was speaking at the launch of the Tobago Coral Reef Operators Limited at the Store Bay Beach Facilities on Thursday. (7th July 2011) The company comprise boat operators who ferry visitors to the world famous Buccoo Reef from Store Bay and the Pigeon Point Heritage Park on a daily basis. The operators have come together to standardise their service.
London described the event as a very important activity since customer satisfaction was paramount. "What we are doing here today is that we have a product which we can guarantee some measure of predictability. You should therefore complement yourself for what you achieved today. What we are trying to achieve here is professionalism," he said.
Secretary of Tourism and Transportation Oswald Williams told the boat operators that the road to their achievement was long and hard and urged them to ensure that they provided a service that was very professional. "It took us time to hammer out what we have today and we have put in resources for you to ensure that this thing works," he added.
Under the new system hustlers will no longer be permitted at the entrances to Store Bay to harass would be visitors to the reef. Tickets will be sold at Booth No 15 and visitors will be taken to the loading area by ushers employed by the Tourism Division.
The return voyage to the reef will now cost $90 for an adult and $45 for a child to go to the world famous Buccoo Reef, according to Sadie-Monique Harry, Facilities Coordinator, THA Division of Tourism and Transportation.