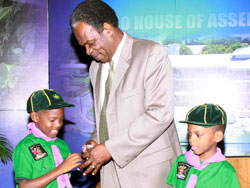 "Everything", is what 9 year old Joel Brown said he liked about Tobago, as he along with 39 of his club members met with THA Chief Secretary Orville London on Monday. (11th July 2011) Now on a four-day camp at the Glen Road Community Centre, the youngsters of the Princes Town District Scouts will engage in the practical aspects of scouting, including first aid, hiking and cooking preparation.
District Commissioner for Princess Town Jasmine Chadee said she was impressed by Tobago and the safety, communication and cooperation which she felt were fantastic. Commending London for what she believed was a job well done, she said "we came to have a good time and we are having a good time".
Speaking about the visit London said there were some simple things in life that were worthwhile. He said it was always refreshing to meet with young people and the adults who were making a difference in their lives. Urging the leaders to continue their hard work, he said although dealing with young people can be challenging at times, the rewards were gratifying.