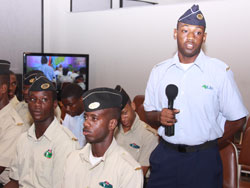 "You can be the proof that the people were wrong", THA Chief Secretary Orville London told a group of Military Led Academic Training (MILAT)/ Military Led Youth Programme of Apprenticeship and Reorientation Training (MYPART) cadets who visited him on Monday. (11 May, 2011) Noting that the programme had turned out to be excellent although there was much scepticism from even high ranking people just before it started, he made a call for young at-risk Tobagonian men to get on board. He said he was particularly interested in the programme because it was taking Trinidad and Tobago into another dimension.
The lone Tobagonian cadet who hailed from Roxborough said he joined the programme as a stepping stone into the Defence Force. Smartly dressed in his blue uniform which identified him as a student in the academic aspect of the programme, Dave Clarke said he was more focused. He made a special appeal to young Tobagonians explaining that "this programme will ensure that you reach where you want to be in life. If you have the focus and the mindset to do so, the instructors and teachers will set the path for you."
Of the programme, a cadet from Mayaro enrolled in the technical aspect felt that he had changed for the better. "I came into the programme to change. My family and friends do not see the same person that used to smoke on the block and do a lot of stupid things", he explained.
Their tutor, Sgt. Marlon Adams who spoke to the media after the visit believed that the MILAT programme presented an entirely new culture to young people. "It is one of complete change that promotes discipline – a thing we often see lacking in today's society," he argued. Training takes place at the former Mausica Teachers' Training College compound, but he added that there were plans to establish a centre in Tobago.
The programme which began in 2007 was the brain child of former prime minister Patrick Manning. It is a three year programme which offers some military training and technical and vocational instruction and certification for youths 16 – 19 years old. Students must be part of the military training but are free to choose a concentration in academics or tech-voc. There are two intakes per year.
MILAT targets at-risk youth and aims to make trainees certified, confident model citizen epitomising the values of respect, personal responsibility and leadership to contribute positively to nation building.
Persons interested in the MILAT/MYPART Programme can access application forms from the Tobago Regional Office of the Civilian Conservation Corp (CCC) in Mt St George.