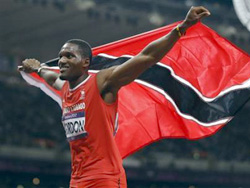 The Lalonde Gordon Sports Fund will be launched next month. The foundation was established to honour the 2012 double Olympic bronze medalist, Tobago born Lalonde Gordon.
"We're now in Tobago at a state where we have to create programmes to ensure that we develop our athletes and our young people," Secretary of the Division of Education, Youth Affairs and Sport (DEYAS) Councillor Gary Melville disclosed at Wednesday's Post Executive Council media briefing (February 13, 2013).
"Today the Executive Council would have processed the mechanism to operationalise the Fund," Melville said.
In August, following the 2012 London Olympics, THA Chief Secretary Orville London made the commitment to establish the Fund. It was created in honour of Gordon's double bronze achievement in the men's 400 metres and 4×400 metres relay during the Olympics.
Melville said the THA would provide $1million each year to the Fund and was hoping that corporate citizens and those who would have benefited from sports awards would make cash contributions. The Fund would be used to develop coaches, athletes and athletes.
"The primary purpose of the fund if to develop athletes, coaches, officials and volunteer administrators," Melville said. "We want to enhance the development of sport participation in Tobago, especially at the elite level."
Melville said the Fund is an opportunity for all major participants in sports in Tobago "to access training and further development."
Melville indicated that DEYAS was working to set up a Funding Request Assessment Committee and launch the Fund next month. The programme will incorporate a centralised funding effort that provides support to sport organizations and individual athletes. "We will contact Mr Gordon as to his availability and various members of the private sector for support."
DEYAS Secretary said the THA would contribute $1 million annually to the Fund.