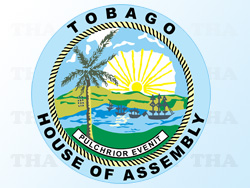 Secretaries, Assistant Secretaries and Administrators of the Tobago House of Assembly (THA) concluded a three-day orientation programme on Friday to assist them in their work over the next four years in the new Orville London Administration.
The session looked at the relationship between secretaries and administrators, the policy direction in terms of the Assembly and the five-year comprehensive development plan which seeks to align Tobago's development over the next five years. It was also in an effort to ensure that they have the same understanding and background for a common way forward.
The secretaries are responsible for giving policy direction while the administrators implement Assembly policies.
Facilitators at the orientation included retired chief administrator Allan Richards and consultant Dr Ralph Henry.
Tobago Chief Secretary Orville London said he was very encouraged by what had transpired at the session, first by the quality of the presentation and the relevance of the presentation of issues which have been plaguing the administration for some time. "Most of the presenters were people who had a fair idea of the challenges faced by the Assembly, issues of the relationship of secretaries with administrators and therefore they were able to deal with those issues in a very pragmatic way and in a very productive fashion," London said.
London said he had been involved in quite a number of orientation sessions and based on the quality of the interaction and the range of involvement he had left this session with much more confidence than any of the previous sessions and therefore he was encouraged by what had transpired.
London said the five-year Tobago economic development plan was dealt at length in the session and added that the present crop of secretaries and assistant secretaries were fortunate in they had come into office with a lot of work that had already been done. "There has been extensive consultation and we now have a blue print for development complete with an implementation plan. There are a number of planks on which this economic development plan was based and they are not significantly different from those at the national level."
The Chief Secretary said the challenges of 2013 were more or less the same as those in the past four years but the challenge was the question of managing the resources within the parameters in which to operate. "We have got to understand that we are operating in a public service environment and there are constraints of managing our human resources, the level of control we have over our workers. There are obviously bureaucratic constraints; there are financial constraints, the question of the mindset of the people which have to change. All of these are issues that have been there; we have been able to manage them reasonable well," London said.