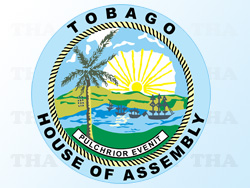 The Tobago Secondary Schools Track and Field Championship will be staged at the Dwight York Stadium, Bacolet after all.
When major repairs to the track and field at the stadium did not start in December it was feared that the students would not have been able to participate in the "zonal competition" to qualify for the National Secondary Schools Athletics Championship in Trinidad later this year.
However, Secretary of Education, Youth Affairs and Sport Councillor Gary Melville disclosed on Wednesday that the championship will go on at the stadium and its nearby training ground on February 26 because of the unavailability of a suitable venue.
Speaking at Wednesday's post Executive Council media briefing Melville disclosed that the THA will fund the $10M required for the work on the stadium's Mondo track, field and drainage system starting next month.
He said the Assembly was about to sign a Memorandum of Understanding (MOU) with the Sports Company of T&T to operationalise the undertaking. Melville also disclosed that the Lalonde Gordon Sports Fund in honour of Gordon's double bronze achievement at the London Olympics last year will be launched next month.
He said the THA would provide $1M each year to the Fund and was hoping that corporate citizens and those who would have benefited from sports awards would make cash contributions as well as from persons who would have made a commitment in their Will. The proceeds of the Fund would be used to develop coaches, athletes and other sportsmen.
Councillor Melville also disclosed that the elite Student Athletes Academic Assistance Programme (SAAAP) to assist Tobago's young athletes between 16 and 21 years in their educational goals will come on stream soon.