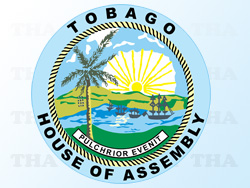 The Tobago House of Assembly (THA) wants a separate airline to service the Trinidad to Tobago Airbridge.
This issue was raised by a THA team led by Chief Secretary Orville London during a 2015 budget consultation on Monday 17th July 2014 with Minister of Finance and the Economy Larry Howai.
Reporting on the meeting at Wednesday's post Executive Council media briefing, London said: "I think that one of the issues we did get traction from the Minister of Finance was the delinking of the Trinidad to Tobago airbridge from Caribbean Airlines (CAL). Our position is that we are in fact in the present system mixing two types of operations which are incompatible."
He said: "We are asking Caribbean Airlines to make a profit but on the other hand we are accepting the fact that the Trinidad to Tobago airbridge has to be subsidised. We are saying that this situation is untenable, it is unworkable and it will create problems for the central government and of course the people of Trinidad and Tobago."
The Chief Secretary added: "Our strong recommendation is that we return to a more efficient arrangement which would entail that we have a separate airline running the bridge between Trinidad and Tobago where we could deal with all the nuances, we could determine what level of subsidy, we could determine what is the best type of airplane and we can ensure that it achieve the objective with respect to bringing people between the two islands," he said.
"We are convinced that if we have an efficient airbridge there will be tens of millions worth in benefit to the tourism sector," London added.
London said he was heartened by the response of the Minister of Finance as well as by the response of Transport Minister Stephen Cadiz whom he met earlier this month and was looking forward to a statement on the matter in this year's budget.