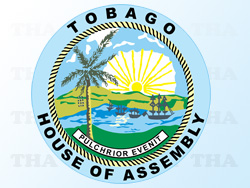 More cameras, creation of a canine unit and greater surveillance at the ports of entry are among the items for action contained in Tobago's new Crime Plan.
Chief Secretary Orville London revealed that the plan drafted by ACP (Tobago) Brian Headley also dealt with the question of manpower in the Police Service in the island. London said recruitment of personnel is presently being done for the regular service and SRPs for the THA.
London who was speaking the weekly Post Executive Media Briefing on Wednesday, said Tobago had more cameras per square foot than any other geographical area in Trinidad and Tobago and the plans are to install more at various sectors on the island and to link the cameras with private surveillance, private security and private cameras.
He said community policing will also play a greater role where people will be sensitised on personal safety and how to deal with tourist and visitors.
He said the aim is to make Tobago an unfavourable environment for criminals.
The plan with engage a mixture of old fashioned methods and new things using the technology. He said the plan for the ports which may not necessarily become operational in the short term is for greater surveillance, especially the sea ports which are always considered the achilles heel in Tobago, since there are just not enough safeguards with respect to persons, arms and ammunition moving between Trinidad and Tobago.