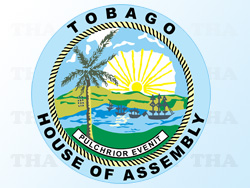 The Tobago House of Assembly (THA) will celebrate its 32nd Anniversary on Tuesday December 4 2012, Assembly Day.
A a result a series of events have been planned to observe the occasion starting with a two-day exhibition on Thursday November 29 and Friday November 30 in the car park of the Dwight Yorke Stadium, Bacolet.
Also on Friday November 30 there will be a street parade through Scarborough by students of the various primary and secondary schools as well as children's activities at the schools.
The Annual Christmas Tree Lighting ceremony will take place on Monday December 3 2012 at the Botanic Gardens, Scarborough at 6 p.m. and on December 4 at 4 p.m. there will be a youth rally and concert at the Milford Road Esplanade, Scarborough.
Also on December 4 there will be the Chief Secretary's Awards function at 7 p.m. at the Victor E Bruce Financial Complex, Scarborough. On Thursday December 6 there will also be a Christmas Tree lighting ceremony at Louis D'Or at 6.m.
Nominations for the Chief Secretary Award are still open and can be made at the Office of the Chief Secretary, Calder Hall Administrative Complex, Scarborough.