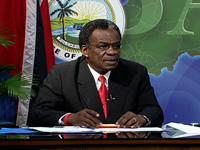 Tobagonians will get their new hospital for Christmas.
THA Chief Secretary Orville London announced to the media on Wednesday (14th November 2012) that the Scarborough General Hospital at Signal Hill will become fully operational by mid December.
He said this will be done once State-owned National Insurance Property Development Company Limited (Nipdec) was able to hand over the 100-bed institution to the Ministry of Health and then to the Assembly as it promised by the end of this month. The hospital was constructed by China Railway Construction Company Limited.
Speaking at the weekly post Executive Council media briefing London said the last phase of the operationalisation process was the transfer of hospitalised patients from the old Scarborough General Hospital at Fort King George to the new institution.
He said Health and Social Services Secretary Assemblyman Claudia Groome-Duke reported to the weekly Executive Council meeting earlier in the day that "to a certain extent her Division had been stymied by the way in which the hospital had been handed over".
He added: "There have been areas of concern and I think that this has frustrated the process."
London said the people of Tobago and of Trinidad and Tobago must not forget that the responsibility for the construction of the hospital was the Ministry of Health, which represented the Central Government. "It means therefore that Tobago House of Assembly had the responsibility to operationalise the delivery of services after it had been handed over, so that they have to work hand in hand.
He added that there has been a significant level of collaboration and complimented both the Division and the Ministry for that.
He said the Secretary had given the Executive Council the assurance that basically the recruitment process and the maintenance and training of staff have has been going on reasonable well.
The day before the official commissioning of the first phase of operations at the hospital on April 4, two injured children had CT scans done on the new equipment.
When fully operational the hospital will provide jobs for 1559 persons, 384 more than that at the Scarborough Regional Hospital at Fort King George.