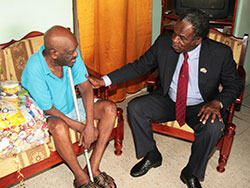 THA Chief Secretary Orville London presented hampers to the two surviving World War II Veterans in Tobago, Comrade Josey Eastman and Comrade Michael A. Hector on November 12, 2012.
Remembering his deployment, Comrade Eastman, who celebrates his 89th birthday on Thursday, said, "When I was going oversees, my parents were worried and crying. I was happy to go and know the outer world." He was a member of the Southern Caribbean Forces Unit and served in the Caribbean, Egypt, Jerusalem and Italy.
"This comes like my good luck trip," London told the veteran, who enjoys being on the move and walks in the village of Castara. "I'm coming back next year to meet you just as strong, God willing," London said.
Born on July 29, 1921, Comrade Hector served in Trinidad as part of the Third Battalion B Company. When he returned home, the Bon Accord resident worked as a Watchman and, later, became a nurse.
While distributing the neatly wrapped hamper of gifts, London told Comrade Hector that Eastman had sent his regards. "It's only the two of us," Comrade Hector said.
London thanked the two veterans for their service to Trinidad and Tobago during wartime. Every year, veterans of our nation are honoured on Remembrance Day.
The Remembrance Day Ceremony and Parade was held at James Park in Scarborough on Sunday, November 11, 2012.