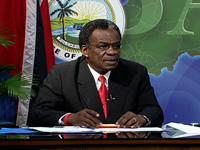 THA Chief Secretary Orville London is appealing to contenders in the January 21 Assembly Election for a decent campaign.
Saying he was speaking as Chief Secretary, London told reporters at the weekly post Executive Council media briefing that he has been "very disappointed to date at the level to which some of the campaign rhetoric has been generated".
He said he was really hoping that all leaders and persons having conversation with the public of Tobago will focus on the issues and not allow the conversation to degenerate into character assignation and vicious personal attacks.
"I really want to urge all of us as leaders to ensure that we keep the campaign at a level where we can be comfortable that after the election is over that the healing process will not be too difficult," he said.
London added: "We have to bear in mind that above everything else we are Tobagonians and regardless of the outcome of the election we have to live here as Tobagonians and we all have a responsibility to understand that the way in which we campaign could influence the way in which we govern.
"I want to give the assurance that as long as I am associated with any campaign it will be conducted according to the acceptable standard and I really hope that this policy will be followed by those concerned."