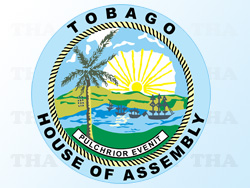 The Tobago House of Assembly (THA) will provide the documents relating to the $134M office complex for its Division of Agriculture, Marine Affairs Marketing and the Environment to the Minister of Finance Larry Howai by Wednesday.
In giving this assurance at the weekly post Executive Council media briefing on Wednesday the Tobago Chief Secretary Orville London said it will also make them available to the public via its website.
He however reiterated that he was a bit concerned with the approach taken by Attorney General Anand Ramlogan bearing in mind that he (London) had meaningful exchange of information with the Minister of Finance on the matter. London said in his last correspondence dated November 5 2012 the Minister of Finance indicated that he had no challenge with respect to the way things were going, in fact he focussed on the need for the completeness of the process.
London said it was therefore a little strange and quite unfortunate that in these circumstances the Attorney General should be making threats, and in some cases were counter productive because if the Attorney General were to follow through on his threat to use the Freedom of Information Act he or any body, any member of the public has to ask for the information on a prescribe Form and then the Assembly, not Orville London, would have 28 days to answer. "That would have prolonged the matter even further but as I said that was not our concern, we were concern with ensuring that we kept our pact with the people and that we got all the documents that were relevant and have them made public and then of course conveyed to the Minister," London added.
The Tobago Chief Secretary added: "We have to ensure that when we submit the document as far as we are aware we submit all of them and therefore we prefer to operate on the side of caution and good sense rather than operate with undue haste."
He said he wanted the people to understand the magnitude of the task which was given to the Assembly which was asked to and promised to produce all the documents pertaining to the construction of the office complex. He disclosed that at the end of the exercise there would be over 200 pieces of documents dating back to 2001 with its conversation with the Ministry of Finance with respect to borrowing and all other supporting documents.
"I am very relieved that we are now at the end of that aspect of it, that is the collection of the documents and we are now having them compartmentalised and processed in such a way that it would make easy reading for the public and I can give you the assurance that the document will be ready for presentation to the public no later than next Wednesday, it might be before that but based on the information I am getting it would be ready for publication no later than Wednesday," London said.