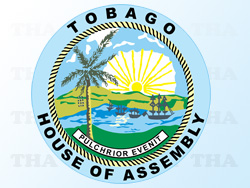 The Division of Finance and Enterprise Development of the Tobago House of Assembly (THA) will adopt a Public-Private Partnership (PPP) policy for the implementation of projects identified for the island's development programme.
Speaking at Wednesday's weekly post-Executive Council media briefing, Assemblyman Joel Jack, the Secretary of Finance and Enterprise Development, said that the division and had sent a team to a training programme in Managing Social Infrastructure – Public Private Partnership, held in Miami in February. The THA was represented by Secretary of Settlements and Labour Deon Isaac, economist Carlos Hazel, and the Finance Secretary.
He added that the next step towards implementing a PPP model for Tobago will be the roll-out of a PPP policy framework and the establishment of a PPP unit within the division.
The Secretary of Finance said that the policy will also address the recommendations, including those relating to procurement policies, made by Justice Ronnie Boodoosingh in his judgement on the Milshirv/BOLT matter.
He said that the policy document, which will be unveiled in the coming months, will see the Assembly's implementation of the PPP model and will take into consideration the definition and scope of PPP projects, especially in relation to size and duration; priority areas in the implementation of PPP arrangements; the objectives of the PPP projects, especially in relation to the Comprehensive Development Plan; principles governing PPP agreements; procedures for procurement; the management of PPP projects; risk allocation policy; and monitoring and evaluation.
Jack said that this policy document will outline the parameters under which the PPP model should be employed and also set the legal and administrative framework for the model. He added that, in anticipation of Justice Boodoosingh's ruling, much work has been done and the division will shortly be presenting a policy document to the Executive Council after consultation with the relevant stakeholders.