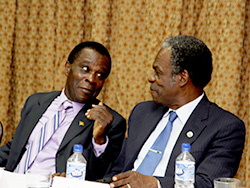 Grenadian Prime Minister Dr Keith Mitchell says that it bothers him that there is no opposition in his island's parliament.
He wondered how THA Chief Secretary Orville London, who also has no opposition in the Tobago House of Assembly, handles it. Mitchell said it affects his motivation and sometimes he has considered making a straw man or two to sit in opposition in the parliament. He suggested to London that they meet to discuss this situation.
Mitchell was the feature speaker at the opening of a five-day workshop on Technopreneurship for the Caribbean at the Grafton Beach Hotel on Monday, 5 May. The workshop was jointly organised by the International Science, Technology and Innovation Centre for South-South Cooperation under the auspices of UNESCO, and the Network of R & D Institutions in the Basic Sciences in the Caribbean in collaboration with the CARICOM Science, Technology and Innovation Committee. Fifteen of the 33 participants at the workshop are from Trinidad and Tobago.
Mitchell who is the prime minister responsible for Science and Technology in CARICOM, said there was tremendous opportunity in the Caribbean to develop agriculture but stressed that, to do so, "we have to invest heavily in science and technology".
He said that the University of the West Indies should establish units in villages across the Caribbean to accommodate those who cannot access its campuses. He added that science and technology in the Caribbean, while far from being stagnant, was underutilised.
Mitchell said that hurricanes Ivan and Emily did extensive damage to Grenada's nutmeg industry in 2004, and asked why science and technology could not develop a nutmeg plant that produces fruit in four years – half the time it currently takes – and more nutritious rice in Guyana.
The Grenadian Prime Minister also shared a humorous exchange with London over which island was really the Capital of Paradise. Mitchell said the Capital of Paradise needed some spice and therefore Grenada, being the Isle of Spice, was the true capital.