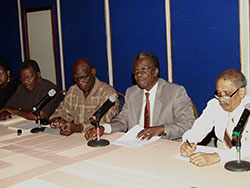 Political leaders working together toward Tobago's full autonomy are to face the public on one platform in a series of meetings in June and July.
This was disclosed by former Chief Administrator Allan Richards, who heads the secretariat co-ordinating the process. He said that, starting on 3 June, meetings will be held with representatives of business, the construction industry, tourism and allied industries, professional organisations and unions, faith-based organisations, art and culture, youth and sports, farmers, fishermen, and the community.
Further, he said, there will be public conferences on the first three Sundays of July in Tobago and one on 27 July in Trinidad. This will be followed by a convention where the public will be asked to pass resolutions accepting their recommendations. He said that a report will then be prepared at the end of July for submission to the Assembly and ultimately the Parliament.
Richards was speaking at the media briefing after the fourth meeting of the leaders at the Mount Irvine Bay Hotel on Tuesday, 13 April, 2014. Jack Ashworth, leader of the Tobago Organisation of the People (TOP), was again absent even though he had been invited by the co-ordinator Chief Secretary Orville London. The TOP leader and the party's two representatives have been absent from all the meetings since the first one in January. Hochoy Charles, leader of the Tobago Platform of Truth (TPT), expressed sadness at their absence, and said that he is hoping to meet with the three to encourage them to attend next Monday's meeting.
Richards said that the objectives of this phase of the exercise are to alert citizens to issues and to clarify them, obtain verification and endorsement of fundamental issues, and obtain resolution on the way forward. He added that the goal is to obtain the greatest and widest meaningful participation of the citizenry of Tobago.
He said that the demands of the people emanating from the exercises conducted over the past decade will be incorporated into flyers, printed documents, audio messages, video messages and meetings and consultations. He said that the government green paper and other documents will also be distributed.