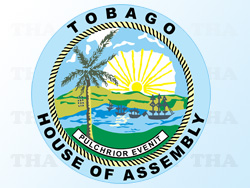 The Tobago House of Assembly (THA) will resume its housing programme next week, Settlements and Labour Secretary Godwin Adams disclosed on Wednesday. (7th November 2012)
Adams said the programme will include the construction of town houses, duplexes and apartment buildings at Adventure in northwest Tobago. He said construction will begin next week on 40 town houses by three Tobago "born and bred" contractors over a ten-month period. They are Parks International Company Limited, Carl Rodney Construction and A M Transport and Construction. He said these units were estimated to cost $32M while a second phase will begin next month.
Adams said he wanted to made it absolutely clear that the Assembly had contracted state-owned HDC to project manage the programme which will be funded from the THA budget.
The Assembly has already constructed and distributed 74 single dwelling units costing approximately $22M at Adventure.
Adams also disclosed that E-IDCOT which was established by the THA as a special purpose company has been contracted to project managed work on 55 service lots at Belle Garden in east Tobago over the next ten months. The work will be done by Kalanji Transport and Construction.
He further added that 120 service lots will be developed on the Courland Estate starting within the next three weeks while in a second phase at Courland will see the construction of town houses, duplexes and apartment buildings.
Adams said the Assembly will continue to pursue its housing programme to provide affordable housing for citizens of Tobago.
He said the Assembly spent $5M last year and has budgeted another $5M under its home improvement programme to assist Tobagonians in the maintenance of their houses. He added that over 400 families had benefitted from the home improvement grant, the home improvement subsidy and the home completion grant.