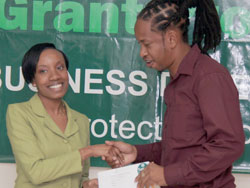 In its continued effort to stimulate and sustain growth in Tobago's small business sectors, the Business Development Unit (BDU) of the Division of Finance and Enterprise, Tobago House of Assembly moved further to protect Tobago's heritage through entrepreneurship.
At a forum held on Monday (24th October, 2011), close to TTD $1 Million was disbursed to 40 local entrepreneurs. Such distributions included some $400,000 in loan funding to three entrepreneurs. Additionally, close to $600,000 was distributed to 37 grant recipients under the Enterprise Assistance Grant Programme.
The Grant Programme, which was officially launched in May of this year is a seed investment initiative of the Assembly. It was meant to respond to the growing demands and challenges of meso and micro entrepreneurs locally.
Thus far, Tobagonians have shown a tremendous response to the grant programme, with 354 applications, valued at over TTD $8M.
The Business Development Unit, Division of Finance and Enterprise Development and moreover, the Tobago House of Assembly remains committed to providing opportunities and support to citizens willing to participate in the economic development process towards Protecting Tobago's Heritage.