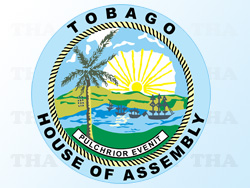 The controversy over the government appointment of the five-member Tobago Local Public Assistance Board made it way into proceedings of Thursday's (February 23 2012) plenary sitting of the House of Assembly.
A motion calling on the House to condemn the Central Government's decision to ignore the THA recommendations and appoint its own selectees was passed with the four Minority members present abstaining when the vote was taken.
The motion presented by Secretary of Health and Social Services Assemblyman Claudia Groome-Duke also called on the House to urge the government to take the necessary steps to have those appointments rescinded and to facilitate the urgent appointment of the THA nominees to the Board.
An amended motion presented by Minority Leader Ashworth Jack was defeated 10 to 4.
In presenting the motion for debate Groome-Duke said it was about an untenable situation that was yet to be resolved in the selection of a Local Public Assistance Board to carry out the business of the Assembly in the delivery of effective and efficient services to the vulnerable and disadvantaged in Tobago.
She said the quality of life of many of the island's senior citizens and socially disadvantaged individuals was dependent on a timely and sensitive response to their requests for the senior citizens pension and other forms of social assistance and her Division had demonstrated its commitment by ensuring that senior citizens were taken care of in the evening of their years.
Groome-Duke disclosed that in 2011, 3,278 old age pensioners received a total of $102,978,600, 551 persons received $5,466,300 in public assistance, 278 persons received $,209,400 in disability grants while hundreds more received thousands of dollars in other forms of assistance.
She pointed out that the THA Act No 40 of 1996 which was part of the Constitution of Trinidad and Tobago passed by the Parliament outlined the responsibilities that fall under the purview of the Assembly, adding that the Assembly had certain delegated powers which were enshrined in the Act that gave it specific areas of administrative responsibility and executive authority under the Fifth Schedule, one being social welfare.
She said in the same way that the Constitution directed that the Cabinet of Trinidad and Tobago be responsible for and carry out the duties of the government, so too the Constitution dictated that the Executive Council of Tobago carry out the functions of the Assembly.
She said there were only three of the five members on the Board at present, two from the leeward district and one member residing in Trinidad; the quorum for the Board was comprised of three members and this action had led to an impasse which was having an adverse effect on the welfare of the senior citizens and other socially disadvantaged persons in Tobago.