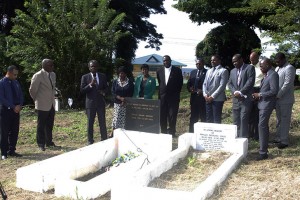 Today marked the anniversary of late former Trinidad and Tobago president and prime minister Arthur Napoleon Raymond Robinson's birthday.
This morning (December 16, 2015), Tobago House of Assembly (THA) officials, including Chief Secretary Orville London and Presiding Officer Kelvin Charles and several other Assemblymen, visited Robinson's gravesite at the Methodist Cemetery along with members of the Robinson family.
They paid tribute to Robinson, who also served as the first chairman of the THA. .
Chief Secretary Orville London hailed Robinson's great contribution to the country.
"I think this was our tribute on behalf of all of Tobago to Tobago's greatest son," London said. "I think that even though he's in another place, I think his legacy has lived on in this island and among all of us, and we want to give thanks for his memory and more importantly, thanks for his contribution. May his soul rest in peace."
Robinson died on April 9, 2014. His legacy lives on as he is the only person to have held the three highest offices in Trinidad and Tobago and is credited with a major role in the formation of the International Criminal Court.
London thanked those in attendance. Robinson was also honoured with music and words of adoration, while prayers were offered during the ceremony by Reverend Duane Samm, pastor of the Scarborough Methodist Church.