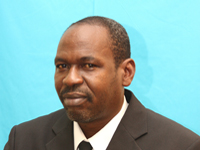 The Studley Park Quarry in east Tobago, which is fully owned by the Tobago House of Assembly (THA), is expected to bring in revenue of approximately $120 million a year to the coffers of the Assembly, according to Assistant Secretary in the Division of Infrastructure and Public Utilities Gary Melville.
He said the quarry was committed to supplying all the aggregate needed by Jusamco Pavers Limited to repave the Crown Point International Airport runway. He said the company was mobilising and stockpiling the aggregate to start up full operations later this month.
Mr Melville who was speaking at Wednesday's post Executive Council media briefing said the Assembly had invested approximately $100 million in equipment for the quarry which will introduce a second shift shortly. He said the quarry will become a major player in the market for aggregate and already there was significant interest in Trinidad. Adding that there were large reserves of the first grade material at the quarry Mr Melville noted that such aggregate was available only in the Dominican Republic and Nova Scotia in Canada.
He said the Studley Park Pier will be upgraded for barges to be loaded to take the aggregate to other parts of Tobago and to Trinidad and for use in importing sand from Trinidad.
Assistant Secretary Melville said several people had expressed interest in acquiring the quarry but the Assembly was determined to operate it and to make a profit.