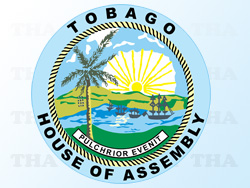 The Sports Company of T&T (SCTT) is to make an evaluation of the repairs required to make Dwight Yorke Stadium OSHA-ready.
The stadium which falls under SCTT was deemed unsafe and has not been in use, although the THA spent $14M to replace the Mondo track last year.
Secretary of Education, Youth Affairs and Sport (DEYAS) Assemblyman Huey Cadette speaking at Wednesday's post Executive Council media briefing at the Administrative Complex, Calder Hall, said a meeting was held at the stadium on December 31 2014 to discuss its closure and the way forward for the sports facility. The meeting was attended by officials of his Division, headed by Assistant Secretary Assemblyman Jomo Pitt, the Ministry of Sport, the Sporting Company and OSHA.
Cadette said coming out of the meeting the Sports Company agreed to make an evaluation of all the work to be done at the stadium while OSHA indicated that once the plumbing, electrical and air condition works were successfully completed it was prepared to give approval to use the track and the wider sporting areas.
He added that the Assembly now has to keep in contact with the company to ensure the work is done in a timely manner.
He said the Assembly was still awaiting the structural engineering assessment on the integrity of the main stand.
Cadette said the primary and secondary schools zonal championship is schedule to take place in March. "We are concerned that after a significant investment in the track our student athletes and our elite athletes would not have access to train or compete especially in a year when we would have the Pan Games and World Championships; there is a need to have that track available for our athletes," Cadette said.