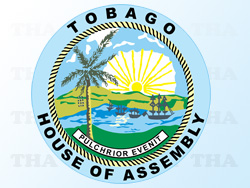 The Forum of Political Parties will hit the road on Sunday (18th January 2015) with an open-air public meeting, as it continues to sensitise Tobagonians on self-government for the island.
The Forum comprises the People's National Movement (PNM) and the Tobago Platform of Truth (TPT), which contested the January 21, 2013 THA elections. The Tobago Organisation of the People (TOP) pulled out of the process after its first meeting last January.
The meeting starts at 5 p.m. at Penny Savers car park in Canaan/Bon Accord.
Dr. Levis Guy, who heads the self-government secretariat, will speak at the public meeting, along with TPT leader Hochoy Charles and PNM Tobago Council Chairman Neil Wilson. THA Chief Secretary Orville London will also deliver an address.
At last Wednesday's 7th January 2015) post Executive Council media briefing, London told reporters that Prime Minister Kamla Persad-Bissessar said she would be in Tobago later this month for a meeting to discuss Tobago's thrust towards self-government.
Consultations on Tobago's self-government have already been held with Parliamentarians, Assemblymen, political contributors and activists, business organisations, the construction industry and tourism and allied industries.
Almost 600 people voted at the final convention to "authorise, instruct and mandate the leaders of The Forum to take all proper and necessary steps to achieve and secure democratic self- government for Tobago in the shortest possible time".
The convention came after 12 meetings with interest groups and four regional meetings in Trinidad and Tobago, which allowed the people of Tobago to give their views on Tobago's autonomy.
At that final convention, the participants also asked The Forum to ensure that the self-government secured for Tobago includes appropriate provisions concerning the 11 issues they discussed and agreed to, including the following:
• the responsibility of the Tobago Administration to formulate and implement policies on all matters affecting the lives of residents in Tobago

• equality of Status between the islands and a constitutional, legislative and administrative framework reflecting such equality

• a Federal-Type System of governance

• definition of the boundaries of each island

• jurisdiction and control over economic resources in Tobago's defined geographic space

• the freedom for the Tobago Administration to make laws to govern Tobago

• the ability to borrow money to fund Tobago's Development

• the authority and responsibility in the Tobago Administration to formulate and implement fiscal policy, including taxation measures

• the removal of Cabinet dominance and its ability to over-ride decisions made by the Tobago Administration

• a legal framework providing for the wider participation of society in the decision-making process of the Tobago Administration

• management and control of the inter-island transportation systems to reside in Tobago