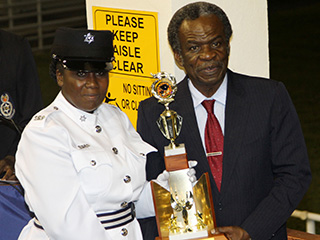 Thirty-one new Special Reserve Police (SRP) officers will hit the roads of Tobago for Carnival to boost the security manpower on the island.
The SRPs graduated from a rigorous training programme over 424 contact hours. The programme was conducted by the Trinidad and Tobago Police Academy at the COSTAATT campus on Glen Road, Scarborough. Six women and 25 men graduated. WPC Gillian Daniel, the top recruit in the programme, received three awards and delivered the valedictory address.
ACP Tobago Earl Gonzales confirmed that the officers will have a few days off before taking up duty in time for Carnival.
In addressing the officers at the Buccoo Integrated Facility, the ACP said the police administration was well aware of the shortage of police officers on the island.
He urged the officers not to rely on their achievements to date but to work towards obtaining the required qualifications so they can be absorbed into the regular service.
"So long as you satisfy the requirements, you will be eligible to join the mainstream of the police service," he added.
ACP Gonzales urged them to be honest and truthful in whatever they say and do.
"You should do what is right so that when your tenure comes to a close, you will be able to say I did it right, I did it my way," he said.
In his brief address at the function, Chief Secretary Orville London criticised Tobago Development Minister Dr. Delmon Baker for claiming that "you are more likely to be shot dead in Tobago than Trinidad". London recalled that the headline in the Tobago News newspaper this week distressed him.
However, he said, contrary to Dr. Baker's claims, information from the police revealed that serious crimes in Tobago had dropped by over 25 per cent in 2014. In fact, the Tobago Division received an award for its role in reducing serious crime.
London said he was happy to see so many men graduating, since in the past fewer of them participated in the programme.
He said it was important that the relationship between the public and police officers in Tobago be based on trust, confidence, and the certainty that these individuals have the public's interest at heart and share its objective of having a safer Tobago.