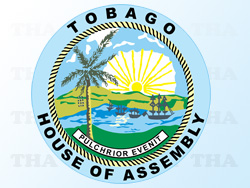 Chief Secretary Orville London is requesting urgent talks with Minister of Transport Stephen Cadiz to discuss the proposed Eastern Caribbean ferry service.
At a media conference hosted on Monday (February 9, 2015) at the Administrative Complex in Calder Hall, Scarborough, London expressed his dismay over newspaper reports that Cadiz stated the new service will be launched within "the next couple of weeks, without any proper consultation with the THA".
London reminded the Minister of their meeting scheduled January 19 (2015), which was postponed upon the Minister's request, to discuss the matter. Late last year, London contacted Cadiz to meet with the Minister on the matter after reading about the initial proposal in a local daily newspaper.
Said London: "It is untenable, in fact, something of a betrayal of trust, that you should make a public commitment to the Eastern Caribbean ferry service without any further communication with the Assembly. I am not convinced, Minister, that consideration has been given to the impact of this initiative on the quality of service on the sea bridge and, by extension, the quality of life of the people of Tobago and the rest of the country."
"We cannot dispute that all the problems on the sea bridge have not been addressed and I consider it insensitive and irresponsible that a further commitment should be made, without any assurance that the present problems have been addressed."
The Chief Secretary pointed out that Caribbean Airlines has also found it difficult to adequately service the air bridge between Trinidad and Tobago, a situation that he said was exacerbated by the air bridge. He added that travellers between the islands suffer "significant inconvenience and embarrassment" because priority is not given to the air bridge when facing scheduling problems.
London urged Minister Cadiz to meet with him to discuss his "legitimate concerns".
"Minister, I would not be serving the interests of the people of Tobago if I were to support the present proposal before all of its legitimate concerns were addressed," London said. "I am, therefore, requesting to meet with you so that we can discuss the Eastern Caribbean ferry proposal and arrive at a decision that would ensure that the welfare of the citizens of this island and this country is given the priority which it deserves."