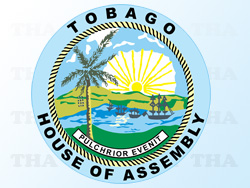 The Forum of Political Parties has invited Tobago Organisation of the People (TOP) leader Ashworth Jack to be part of the Tobago team assembled to discuss self-government for the island.
Tobago House of Assembly (THA) Chief Secretary Orville London on Monday (February 9, 2015) announced the selected members of the Tobago team following a meeting of the Forum at Administrative Complex in Calder Hall, Scarborough.
The members include London; former Chief Secretary and leader of the Tobago Platform for Truth Hochoy Charles; the PNM's Stanford Callender, a former government minister; and former chief administrator Allan Richards.
Jack, who was initially part of the Forum when it was established in January 2014, representing the TOP, subsequently pulled out.
Last week, Prime Minister Kamla Persad-Bissessar wrote to London informing him that a team from Central Government had been set up to look at constitutional legislative reform with regards to Tobago's self-government.
That team includes Minister of Arts and Multiculturalism Lincoln Douglas, Environment Minister Ganga Singh, Food Production Minister Devant Maharaj and Minister of Tobago Development, Dr. Delmon Baker.
This development followed several letters London wrote to the Prime Minister seeking a meeting on the matter, to which he received no response. Last year during a visit to Tobago, the Prime Minister stated her commitment to talks. London has asked for a meeting "not later than Friday February 27th, 2015."
During a press conference that followed Monday's meeting, London revealed he has also written to Jack, inviting the TOP head to be a part of Tobago's team. In his letter to the Prime Minister the Chief Secretary also indicated his displeasure with Central Government's "extended delay" in addressing his concerns over incursion by the Ministry of Tobago Development into areas devolved to the THA by the THA Act.
London said the issue is "highly critical", and finds the lack of action "troubling."
"I must remind you that I would have brought this matter to your attention many months ago," London said. "I would also have provided you with a comprehensive document listing some of the more blatant examples of incursion by the Ministry of Tobago Development."
The Chief Secretary added: "I reiterate, Madam Prime Minister, that failure to address this issue will continue to undermine the integrity of the process and fuel the perception that a Central Government that is prepared to support attacks on the limited autonomy now available to the Tobago House of Assembly cannot be seriously committed to the granting of self-government to Tobago."
London stated that he is available to further discuss this and any other issues that could impact "the promotion of harmony in the affairs of Trinidad and Tobago."