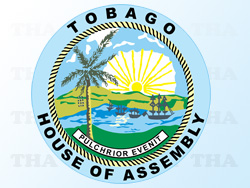 59 arts students from secondary schools cross the island put their creativity to the test when they competed for a spot in the Chief Secretary's 2014 Calendar. With more than $30,000 at stake, the young Tobagonians produced original pieces from inks, dyes, oils, charcoal, pastels, watercolours, pencils, 3d decoupage and other art-related media for the Chief Secretary's Tobago Secondary Schools Art Competition 2013. Entries reflected childhood experiences, culture, sports, food and landmarks.
It is the second time the Office of the Chief Secretary has successfully run the competition which the Honourable Orville London, Chief Secretary said was "dedicated to three of our art and culture stalwarts: Edward Hernandez, Luise Kimme and Rodill Clarke whom we lost in 2013." Mr London added "they pushed the boundaries, broke the barriers and distinguished themselves from the ordinary" and encouraged the young artists to do the same.
The competition saw 16 year old Coryse Wright, of Speyside High School winning first place with Washer Woman, an illustration of grace, dedication, hard work and strength. Wright received $3,000 with her school getting the grand prize of $10,000. The remaining 11 finalists each received $1,500.
Special awards were also given to Hayden Mitchell Jr. for Scarborough Landmark Gone by the Department of Youth Affairs and Sport, Division of Education, Youth Affairs and Sport, Aniecia Baptiste for Tribute to Our Culture and Our Future and Dillon Bhagwandeen for Save Our Seas both by the Division of Community Development and Culture.
The Prize-giving Ceremony was held at the Atrium, Gulf City Mall, Lowlands on Monday 9 December, 2013. The pieces were framed by Horizons Framing & Décor Limited.