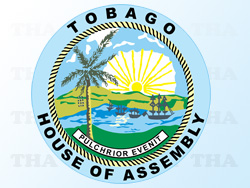 Chief Secretary Orville London is urging Republic Bank Limited to have a "relook and a rethink" of its policy towards the tourism sector in Tobago.
"Although the bank's major priorities will include serving its customers and satisfying its shareholders, a Tobago bank has to be concerned about and sensitive of the fundamental challenges facing the island," he told the opening of the third branch of Republic Bank in Auchenskeoch, west Tobago on Saturday. (7th December 2013)
London said the tourism sector was slowly recovering from a serious slump and the signs of a sustained recovery were encouraging. "However", he added, "recuperating patients cannot be subjected to the same rigid regime as their healthier counterparts and I really hope that the father of Tobago banks will take the lead in this tourism recovery process," he added.
The Chief Secretary said the Assembly remained open to conversation and he suspected that if the banks did not call on the Assembly, it will be calling on them.
He congratulated the bank on the well-designed and highly functional structure which had enhanced the landscape and said the decision to take what might be considered its main branch out of Scarborough was in sync with the Assembly's thrust towards creating other modes of development and easing the congestion in Scarborough.
London said he was certain that this was the start of significant changes in the area and once again Republic Bank was the forerunner. "Tobago is appreciative of your contribution over the decades, the partnering has been mutually beneficial but I urge even closer ties and even more meaningful collaboration," London added.
He said the fact that the Auchenskeoch branch was the third to be opened by Republic in Tobago and the fact that it can maintain a number of off-site ATMs was a tribute to its success, but it was also a tribute to the growth and development that have taken place in Tobago since 1980 under the Tobago House of Assembly and more so in the last ten years.
"With astute management and some say with God's grace, Republic Bank, the Tobago House of Assembly and Tobago have remained stable despite the recent turbulence in the financial arena worldwide. I am confident that the bank, the island and the Assembly will continue on their respective growth parts, but I am urging even closer collaboration," London said.
He said Tobago's quest for greater autonomy will not only continue but will be intensified in the coming months. He added that greater autonomy and greater responsibility, even the limited autonomy given to the THA did not match the autonomy and authority given to the branch management of Republic in Tobago and as a result some discussions could be stymied.