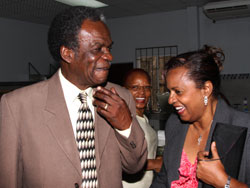 The Sisters of St Joseph of Cluny, West Indies on Tuesday (9th December 2013) opened a Retreat and Holistic Development Centre within the compound of St Joseph's Convent on Cuyler Street, Scarborough.
The three-storey building was renovated with funding from the Tobago House of Assembly (THA), Republic Bank Limited through its Power to Make a Difference Programme, the Catholic Archdiocese and member parishes, as well as a series of fund-raisers. The building formerly housed nuns and a school.
Sister Phyllis Wharf, Superior of the local organisation in Tobago said work on the building started in earnest in March 2012. She indicated that there were plans to construct an addition two-storey building east of the present one for a dining room and library.
In delivering remarks at the blessing and opening ceremony Chief Secretary Orville London said the project was a symbol of what can be done when people got together. He said in the early years the THA played a significant role in the project and hoped that the centre will also play an important role in the future.
He said the centre was a very good example of people praying hard, getting off their knees and going to work for what was needed. He also acknowledged that the private sector had played an important role in the project and extended the Assembly's congratulations for this.