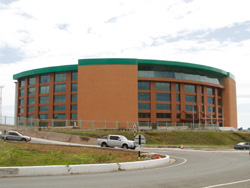 A gala ceremony is being planned for the official commissioning of the multi-million dollar Shaw Park cultural facility in March 2015.
The official commissioning will be preceded by a thanksgiving entitled: "United in Praise" at 6.30 p.m. on February 3 to which all religions and their followers will be invited to attend; as well as the Inter-department personality and calypso show on February 5.
It is going to be the largest such facility in this part of the Caribbean seating 5,000 and is expected to bring significant benefits to Tobago through the hosting of all carnival-type and cultural activities, facilitate entertainment and convention tourism and indoor sport activities.
Following the commissioning the facility will be the venue for a sports festival in March, a jazz festival event in April and the heritage festival in July, all hosted by the Assembly. Other organisations have already booked the use of the facility the weeks following the commissioning.
An interim management committee headed by former Tourism Division events coordinator John Arnold has been appointed to operate the facility.
There will be restrictions on the consumption of food and drink within the large air conditioned auditorium which is also a no smoking environment. Special food and drink bars will be established for use by patrons at certain events.