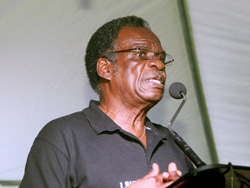 "Commit to a serious meeting on autonomy by January 31st (2015), or we will go ahead without you."
That's the ultimatum Tobago House of Assembly Chief Secretary Orville London gave to Prime Minister Kamla Persad-Bissessar on Sunday night during this year's first public meeting on Tobago's autonomy, hosted by The Forum.
London stated that the Prime Minister had committed to speaking with Cabinet on the issue last year, and promised to meet with Tobago officials, but has failed to do so. She last promised to respond to the Chief Secretary by January 31st, which he indicated is now her deadline to come back with a commitment for serious discussions.
"The Forum of Political Parties has made a decision that in the first place we should give an opportunity to the Prime Minister and the Central Government to be involved in the negotiations; she said she would come back to us by the end of January, and that is why we are giving her until the end of January," London said.
The meeting was organised by The Forum comprising leaders of political parties that contested the January 2013 THA elections. The parties are the People's National Movement (PNM) and the Tobago Platform of Truth (TPT). The Tobago Organisation of the People (TOP) pulled out of the process after its first meeting in January 2014.
London stressed: "If at the end of January we do not get a commitment from her, (we) do not get the kind of positive action that would give us the confidence that she is prepared to treat with this situation seriously, we are going ahead and in fact we are going to be fast-tracking our efforts to make sure that we have a Bill that takes into consideration all the demands of the people of Tobago and bring it back to you for ratification."
London feels the best way to deal with the matter would be to meet with central government and arrive at "common ground", but stressed that he is not prepared to wait forever.
"We are prepared to utilise national and international support to achieve the objective."
The Self-government Secretariat, London further said, has made contact with "two high-ranking international experts", whom we are due to meet with a view to assisting Tobago in its quest for autonomy.
"I want to let you know," he stated, "that this is a struggle that has excited the attention of people from outside of the region and I am saying that we are not in it alone. What those people want to know, but more importantly we as Tobagonians should be concerned about, is that we are the ones who have got to send the signal that we want it and we want it badly."
The Chief Secretary declared that the time has come for "decisive action" by The Forum, and added that Tobago must show decision-makers "at all levels" that the people of Tobago are serious and are prepared to take action.
"…(They must) recognise that the people of Tobago are prepared to dish out punishment and recognise that the people of Tobago are prepared to move on. It is only then that we are going to get the kind result which we deserve," he said.