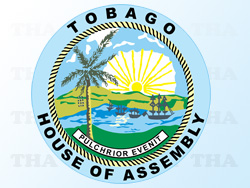 This year's Tobago House of Assembly (THA) Pan Champs competition will be free of charge to the public.
THA Chief Secretary Orville London and Secretary of Community Development and Culture, Dr. Denise Tsoiafatt-Angus, met with members of Pan Trinbago to finalise details for the competition, which will be held on Tuesday (February 10, 2015) at the Shaw Park Complex car park.
The panmen were uncertain about how playing indoors would affect their sound. At yesterday's meeting at the Administrative Complex in Calder Hall, Scarborough, though, the two parties agreed to host the event outside the venue.
"In addition to that," said Tsoiafatt-Angus, "we also agreed given that this activity is the first of its kind at our new space besides the Complex, that we should all give a gift to Tobagonians. Therefore we are inviting Tobagonians to come to the space free of charge."
The Culture Secretary indicated that the event will remain a competition, with 18 bands to do battle in various categories. The bands will be paid an appearance fee, which has not yet been decided upon. The THA will also match the gate fees that would have been lost as a result of the free event this year. The THA will also add 10 percent to last year's gate receipt figures to be given to Pan Trinbago. The estimated figure is about $40,000.
Tsoiafatt-Angus also explained that the Shaw Park Complex was chosen to host Pan Champs as an option to keep spending at a minimum, in challenging economic times.
"We have to ensure that we can spend prudently where the spending for Carnival is concerned," she said. "While we continue spending to grow the industry, we have to be mindful of some of those challenges. It made it more prudent to be within that space and outfit that space infrastructure-wise to accommodate that event on the grounds there."
There are, however, hopes to host the event inside the Shaw Park Complex in the future. Tsoiafatt-Angus said there will be an event for panmen to test the facility "out of season."
Pan Trinbago Chairman for the Tobago region, Marie Toby, also expressed hopes of trying out the venue.
"We have a new facility, we have not yet tested it, and we are looking forward to testing it in the future to see how it would work for pan."
Pan Trinbago will also be launching a "Pan City" near the entrance to the Coast Guard base in Scarborough, where pan lovers will be able to view all the bands in competition this Carnival season.
As usual, there will be mas on the road on Carnival Monday and Tuesday. Calypsonians will also have their time to shine, with their own space to perform at Market Square during the Carnival parade of bands.