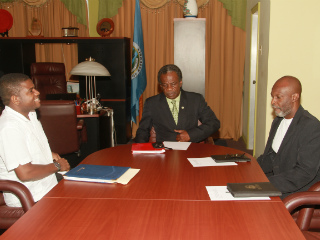 "Exemplary" is how Chief Secretary Orville London described his former Executive Adviser Norris Jack, who passed away on Tuesday night (3 February, 2015).
Jack, who fell ill in April 2014, passed away at age 53. London called Jack a colleague and a friend.
"He was very professional, very dedicated," London said, "but also very sensitive to the concerns of the numerous persons that you would encounter at the Office of the Chief Secretary.
"He leaves a tremendous void in the Office of the Chief Secretary, in the Assembly, and of course in Tobago, because he was involved in a number of community activities."
London added that Jack was an "exemplar of how one can live a life and transcend the professional and the community as well", and provided the opportunity to reach persons at all levels of society.
Jack, who specialised in accounting and enterprise development, joined the Division of Tourism and Transportation in 2001, before moving to the Office of the Chief Secretary, where he served as executive adviser.
Jack's wife, Marslyn Melville-Jack, remembers her husband as "passionate" and "a learner".
"His passion was helping people. Many times he felt he could not do as much as he wanted to for people but he was very passionate about his job," she said. "He learned at the job and excelled for what he did."
Norris Jack had no children, but is survived by two brothers and one sister.
His funeral service will take place on Tuesday (10 February, 2015) at the Plymouth New Testament Church of God from 10 a.m. He will then be interred at the Bacolet Public Cemetery.