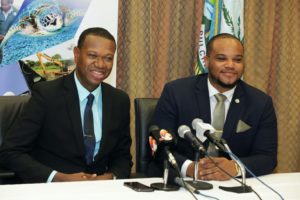 Unemployment Relief Programme (URP) workers will provide skilled labour to support recipients of the National Commission for Self-Help's Emergency Relief and Reconstruction Assistance Grant.
This was made official on Friday with the signing of a Memorandum of Understanding (MOU) between the Division of Infrastructure, Quarries and the Environment and the Commission.
Commission CEO Elroy Julien said the Commission will provide the material for projects in Tobago, and the Division will provide the labour.
Infrastructure Secretary Kwesi Des Vignes said he is pleased that the MOU was signed. He believes it will benefit Tobagonians long-term.
"We are looking for ways to continuously partner for the benefit of Tobagonians," DIQE Secretary Des Vignes said. "I'm looking forward to the benefits that will be accrued for all Tobagonians [following the MOU signing]."
"This MOU is to reaffirm to Tobagonians that the National Commission for Self Help Limited will continue to serve the deserving persons on this island," Julien added. "We are bent on improving the quality of life for Tobagonians."