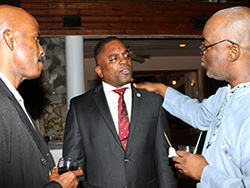 Tobago has learnt important lessons from Canada in its advocacy for self-determination as it works towards a stronger role in its union with Trinidad.
Secretary of Finance and Enterprise Development Joel Jack, made that point as he welcomed a delegation from the Canadian High Commission to Tobago on Thursday, (10 April), at a reception held at the Sea Horse Inn, Black Rock. He noted that such a relationship would be in-keeping with the late president Arthur NR Robinson's vision for Tobago.
"Mr Robinson was very keen on Tobago staking its place in the world and for Trinidad and Tobago to realise its full potential. We are very grateful that, over the years, we have had the assistance of Canada who, as a nation comprised of several provincial administrations, understands only too well Tobago's yearning for self-determination while still being committed to a unitary state".
In paying tribute to the late president, Mr Jack pointed to the Canadian provincial governments which strive for self-determination while remaining part of the Canadian Commonwealth.
"That determination," he said, "which I believe was reinforced in this week's provincial elections in Quebec, is consistent with Tobago's relationship with Trinidad. In fashioning our relationship, we have drawn inspiration from the Commonwealth of Canada and over the years we have been very grateful for the assistance provided by your government to Trinidad and Tobago."
Mr Jack said that the meeting with the Canadian officials "represents an opportunity for the deepening of that engagement and an opportunity to discuss even closer collaboration between our sub-national administration and the government of Canada".
The Tobago House of Assembly, he noted, was "particularly interested in Public-Private-Partnerships, which Canada has taken a leading role in employing and in which, through government-to-government arrangements, Canada has been very helpful to Trinidad and Tobago".