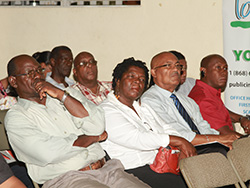 Chief Secretary Orville London has said that former president and prime minister Arthur NR Robinson died before completing his work and fulfilling the vision he had for Tobago.
The Chief Secretary was addressing the closing of the Assembly's democratisation series at the Castara Community Centre last Thursday, (19th April) The meeting took on a special significance because, coincidentally, Robinson spent his childhood in Castara, where his father was headmaster at the nearby Methodist School. A short video on Robinson's life was also shown at the meeting.
London urged the villagers to recognise the significance of these meetings because they rightly dealt with mainly community issues such as roads, bridges, buildings, drainage and so on, but he wanted them also to recognise that Tobago was more than just roads and bridges and drains and buildings."Tobago is about what we, the present occupants, intend to do about the heritage that we are going to be nurturing and passing on. I want us to bear in mind that Mr Robinson (and I will keep saying this) that Mr Robinson died without his work being fulfilled. His work is not complete; the vision he had for Tobago is not yet fulfilled.
"The relationship that he envisaged between Tobago and Trinidad has still not been forged. All of us who would have admired and supported the vision he had for Tobago and Trinidad have a responsibility to ensure that that final leg of the journey is successful," London added.
The Chief Secretary also urged Tobagonians "to do some serious introspection as we reflect on the life of Mr Robinson, and to recognise that we as Tobagonians, not as the Assembly, as Tobagonians, have a role to play in ensuring that the decision-makers in Tobago and the decision-makers in Trinidad do what is necessary to guarantee Tobago the kind of relationship with Trinidad that Mr Robinson had envisaged, and that we the people of Tobago must demand".
He disclosed that over the next couple months there will be a series of activities including meetings with various community groups. These will include the various sectors, the business community, farmers, fishermen, young people and churches. Mr London wants to find a way to get all Tobagonians, regardless of their political affiliation, their geographical location or their occupation, to join in this particular phase of the struggle because, in the final analysis, "we can build all the roads and bridges, we can fix all the drains, repair all the community centres, put lights on all the playing fields… but, if, in the final analysis, it does not belong to us and our children and our grandchildren, we will have wasted Tobago's heritage".
London told the villagers that he did not want them to take this lightly because "while we are here talking about roads and bridges and drains, we can end up with a situation where the entire island is stolen from under our noses while we quibble over little things".
He said the series of 13 meetings over the past year was a demonstration of the commitment made by his administration during the January 2013 election campaign to further democratise the relationship between the Assembly and the people.
"We are very clear that we are here because of you. We therefore have a responsibility to come here and to humble ourselves before you, and to take your criticisms and to take your recommendations and to ensure that we forge a relationship of mutual respect and understanding so that we can all learn from each other," London said.