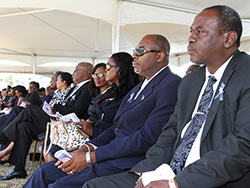 Tobago has lost its innocence and is in transition, Chief Secretary Orville London said last Thursday at the funeral service of his childhood friend, 67-year-old murder victim James Morris.
"We can never go back to the isolated days of the past. We have the responsibility to ensure that the future is not untenable for us and our children," London added.
London described Morris, also known as "Mr Mt Pleasant", as a true Tobagonian, a man who held true to his party (PNM) but was never afraid to say the truth to anyone.
"Farewell, Mr Mt Pleasant, farewell Mr Morris, farewell contractor man, farewell Jamesey, farewell friend," London added.
Morris's service was held at the Mount Pleasant Recreation Ground, Mt Pleasant, a stone's throw from his home where he was brutally killed in an apparent robbery on Wednesday April 2 2014. When he was found by close friends, his jewellery and an undisclosed sum of money were missing. An autopsy showed he died as a result of multiple cuts to his face, head, neck and hands. Police are continuing inquiries.
London also asked that anyone who had information on the crime should give it to the police because "the destruction of James Morris must not go unpunished. The butchering of him, the destruction of him, must not go unpunished".
Tributes were also paid to Morris in song, dance, speeches and the reading of the scriptures.