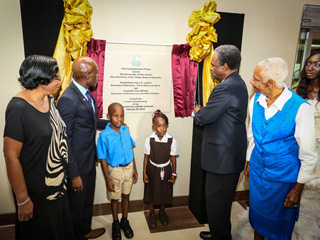 Tobago now has one of the most modern libraries in the Caribbean, providing for the growing information needs of the population, from babies to senior citizens.
The three-storey building in downtown Scarborough was officially commissioned as the Scarborough Library Facility on Sunday (February 23, 2015) by THA Chief Secretary Orville London. It replaces the old Scarborough Library that once occupied the same site until it was destroyed by an earthquake in 1997.
The $86 million facility, which was funded by the Tobago House of Assembly (THA), includes a reading room for children up to age four along with their parents. Also on the ground floor is the Eastlyn McKenzie Children's Library—which includes a storytelling room—and visually impaired services.
The first floor consists of the James Biggart Adult library, a senior citizens room, the Young Adult Library, and an audio/ visual multimedia room. On the second floor are the Susan Craig-James Heritage Library and an archives collection.
The operations include automated loan services, as users will be able to check their own items in and out. The library services have been extended to include access to electronic databases and ebooks. Users will also have Wi-Fi access, laptop loans while at the facility and photocopying and printing services.
Chief Secretary Orville London urged all of Tobago to use the library and invest in their own self-improvement. He added that Tobagonians are responsible for developing their own island and ensure they have a chance to determine their own destinies.
"I want to say that determining our destinies at this point in time is even more critical because we continue to advance our cause for self-government, which will enable us to have a greater say in our future," London said.
The Chief Secretary said he understood the frustrations caused by delays in the building but said that value for money for the facility can only be determined by the number of persons whose lives are impacted by the library as well as the benefits they derive from it.
"Those are the statistics that will determine whether the facility is worth the investment. My challenge to Tobagonians is to make use of the facility and ensure that it is worth it."
Four Tobago icons were honoured during the commissioning. These included Dr McKenzie for her exemplary service in the fields of education and community service; Dr. Craig-James for her determination and sustained efforts in the research and documentation of the country's history; Biggart in recognition of his personal contribution to the establishing of public libraries in Tobago; and, Anne Mitchell-Gift in recognition of the considerable development of library services in Tobago under her stewardship. Her name adorns the Anne Mitchell-Gift Auditorium.
Entertainment for the event included performances by the local and international award-winning Signal Hill Alumni Choir, Lisa Mc Sween (dance), a drama item by the Pentecostal Light and Life High School and the Scarborough RC Primary School speech band, the Speechettes.