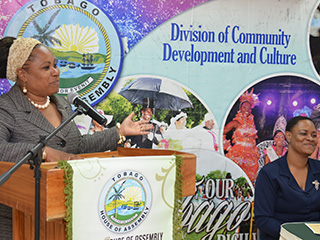 Hundreds of Tobagonians will have a chance to learn new skills from which they can develop a career through the 2015 Vocational Skills Training Programme.
The programme was launched on Monday (February 23, 2015) by the Division of Community Development and Culture with an orientation ceremony for tutors at the Hampden/Lowlands/Auchenskeoch Multi-Purpose Facility. It offers more than 40 courses of study at 39 community facilities across Tobago. It will run until November.
The programme, which is free of charge, was established to teach participants skills that will enable them to generate sustainable businesses and income. The training courses, held on evenings, include cosmetology, maritime pre sea and boat master III courses, events management, and cake decorating.
Assistant Secretary for the Division of Community Development and Culture Ancil Dennis said the programme seeks to develop Tobago's human capital.
"Our priority is not just infrastructural development; we place major emphasis on the development of people here in Tobago," Dennis said during the weekly Post Executive Council media briefing (February 25, 2015).
He is encouraging Tobagonians to utilise the opportunity to learn a new skill.
"It's an opportunity to develop a skill in the creative industry, which will be our main focus."
"We're catering to anybody over the age of 15 to come out and register," he added.
So far, Dennis said, the response from the public has been positive, with "droves of people" turning up at the Division's Glen Road office to register for the programme.
A schedule of classes for the Vocational Skills Training Programme is available in local newspapers and on the Tobago Festivals Facebook page.