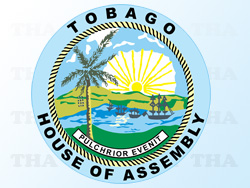 Step into the future.
That is what Secretary of the Division of Education, Youth Affairs, and Sport Huey Cadette is urging Tobagonians to do when the Scarborough Library Facility opens later this month.
Apart from the wide assortment of books for which libraries are known, users will also have access to technology that has become integral to society in recent years when the facility opens to the public on February 23rd, 2015.
"I think the whole idea is that the Library services in the 21st century is more than just books," Cadette said, "and therefore you will see it in our new campaign. That's the concept behind the new services that we are offering: the laptop loans, free Wi-Fi, using the cards to access membership and NALIS services in the Library, it's all fully automated."
Cadette said the Library's facilities are for all of Tobago.
"It's for the future and not just for students, but young children, the visually impaired, the elderly, for Tobagonians across the board. It's more than just about books; it's wider than that. Technology is playing a very integral role in library services and serving persons who access libraries all across the region," he said.
The new multi-million dollar facility replaces the previous building that once stood on the very same spot before it was damaged by an earthquake in 1998.
The new Scarborough Library houses a Visually Impaired Room with special audio services for visually impaired users.
Library users can also utilise laptops inside the library to complete assignments. The fully automated library is also linked to the National Library and Information System Authority (NALIS) management system. Patrons therefore have access to e-books and other online services.
The modern-day library has three floors, and four departments to suit everyone's reading needs: Children, Young Adult, Adult, and the Heritage Library, which houses a collection of West Indian literature, as well as areas for senior citizens, and tiny tots as well.
To register for the new Scarborough library's services, guests must present their national ID card and proof of address before completing an application form. The library will be open from 8:30 a.m. to 6:00 p.m. Monday through Friday and 8:30 to 2:00 p.m. on Saturdays.