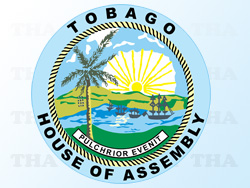 Chief Secretary Orville London and Transport Minister Stephen Cadiz will meet on Friday (February 20 2015) to discuss the effect of the proposed Eastern Caribbean ferry service on Trinidad and Tobago's sea bridge.
The Chief Secretary wrote Cadiz February 9 expressing his "surprise and dismay" over a daily newspaper report that quoted the Minister as saying that the new service will be launched within the next couple of weeks, using the two fast ferries that currently operate between Trinidad and Tobago.
London said he understands that Cadiz has continued discussions with Grenadian interests. The Chief Secretary voiced his hopes that no final decision has been made that would make Friday's meeting a mere formality.
Currently, London said, one of the ferries on the sea bridge is limping along on three engines. This means the predictability of the sea bridge is not guaranteed, the Chief Secretary pointed out.
"Again I consider it highly insensitive, highly irresponsible, in fact close to being reckless," London stated, "because once you get involved in the Grenada situation you are making a firm commitment.
"Even though he says there is not going to be any subsidy, I am not buying that at all because if you have a subsidised sea bridge, of which the ferries are a part, how are you delinking that part of it to say it is not going to be delinked, the whole system is subsidised?" he queried.
London continued: "Under no circumstance should the Minister finalise a deal or make a firm commitment to the people of Grenada or anybody else with respect to the utilisation of the fast ferries that were bought for and are supposed to service the sea bridge."