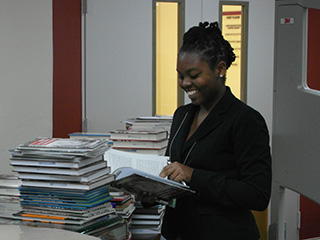 The new Scarborough Library will celebrate its impending opening with a week of activities aimed at all users.
The Library opens on February 23 (2015), and a day later it will host its first event, a Literary Reading session for adults featuring the Tobago Writers Guild from 4:30 p.m. to 6 p.m.
On February 25, there will be a Storytelling session for children 12 and under, featuring Laureen Burris Phillips from 3:30 p.m. to 4:30 p.m. Other sessions include Civil Rights Talks with the United States Information Service (February 26) from 4:30 p.m. to 6:00 p.m. and a Spoken Word session (February 27) for young adults, featuring Mood Writers and Mr Kleon McPherson, from 4:30 p.m. to 6:00 p.m.
The sessions are aimed at demonstrating that the library will offer much more than just books, and will serve the wider Tobago public. Such activities will be an ongoing service by the library.
"It is our hope to have the public actively involved in not only the attendance of activities but the planning of such. While we do have some standard programs such as storytelling, kid's fun time and computer literacy programmes, we intend to have several more with the guidance of our end-users," Librarian III Helen Johnson said.
The Library aims to develop a sense of community, while educating patrons on its available services, said Librarian I Heather Gray.
"Libraries across the globe usually undertake various interchangeable activities," Gray stated. "We at the SLF had several activities in the past and we are excited for the resumption of such. The programmes selected for the first week are traditionally associated with libraries and are specifically designed to interest all age groups."
The new facility will provide an array of services including internet access, the Tobago Heritage Library, a Storytelling Room for children, a Visually Impaired Room, e-Book access and other online services.