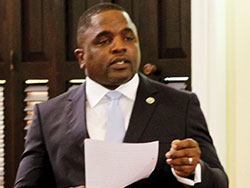 The Tobago House of Assembly (THA) wants the Dispute Resolution Commission (DRC) revise its 14-year formula for provisioning resources to the Assembly.
Joel Jack, Finance and Enterprise Development Secretary, said that, despite the DRC review in 2000 that proposed an allocation of between 4.03 and 6.9 per cent of the national budget, the typical provision was more often than not close to the lower boundary of 4.03 per cent.
"This is a practice we hope will discontinue. It's 14 years since the DRC ruling and the time has come for the revenue formula to be revisited," Jack said in presenting the Assembly's 2015 budget on Monday.
He noted that this issue has been a central one in the discussions to amend the THA Act No.40 of 1996 and that he sincerely hoped it would be resolved soon.
He said that, if the Assembly is to realise its objectives, all available options must be explored in financing capital projects on the island. He added that, while the THA Act number 40 of 1996, Section 51 (b), allows the Assembly to borrow funds for the purpose of capital investment, the Act does not currently allow for the raising of funds via bond-financing.
He said the bond-financing option, together with the use of Public-Private Partnerships (PPP) could provide the Assembly with the resources necessary to make up for any funding gaps for high priority projects.
"In the case of physical infrastructure projects, we can use the PPP option, but projects with demonstrated potential to provide significant and sustainable streams of revenue require the bond-financing option. This comes at a time when liquidity levels are sufficiently high, interest rates relatively low and the ratio of public sector debt to GDP is quite manageable. The expansion of business development and entrepreneurship initiatives, while further enhancing tourism development on the island, also caters for some diversification as we further the development of agriculture and fisheries, culture and heritage, industry and manufacturing and business entrepreneurship. Such enhanced economic activity places Tobago in a position to make an even greater contribution to national revenues, while creating employment and increasing economic growth".
Jack said that it was on this basis that the Assembly identified the PPP model as a form of alternative development financing. "A PPP is a contractual arrangement between a public body and some private sector entity, established to deliver a service or facility usually provided by the public body. It is able to employ private sector strengths in project financing and execution while providing the regulatory oversight of the public entity. It also creates an avenue for the exchange of knowledge and information between public and private entities engaged in development-related activities."
He added: "We welcome the option as a way of funding critical projects whose implementation is constrained by a lack of cash resources. It also allows for a transfer of risk to those parties most adept at handling them, and ensures that greater value for money is obtained in the long term".
He said that, as the Assembly increases its involvement in the use of PPPs, it was assured of the support of the Minister of Finance and is further encouraged by Central Government's own indications of its desire to pursue similar arrangements for some of its own development initiatives. "We are also assured of technical assistance from international institutions such as the World Bank, the IMF and IDB, as well as from agencies such as the Canadian High Commission, in areas such as regulatory reform, project financing, project structuring and implementation, project monitoring, fiscal accounting and reporting.
Some of the projects Jack identified for delivery under PPPs include administrative buildings for all Divisions (except Finance and Enterprise Development and Infrastructure and Public Utilities); a new cargo port to facilitate economic diversification; road and highway constructions; low-cost housing; the Bacolet indoor complex and aquatic centre; medical tourism facilities; factory shells at Cove; expanded tourism facilities such as a five-star hotel; and a marina.